Items filtered by date: January 2022
Tuesday, 11 January 2022 00:00
Ingrown toenails occur when the edges of a nail grow into the surrounding skin, causing pain, tenderness, redness, and swelling. The most common causes of ingrown toenails are trimming the nails improperly, wearing shoes that are too tight in the toe area, or having an abnormal gait or toe shape. Some people can also be prone to ingrown toenails due to genetic differences in the shape of their toenails. Mild ingrown toenails often heal with at-home treatments, such as putting cotton between the ingrown toenail and skin fold and wearing roomier or open-toed shoes. In cases where the ingrown toenail is severe or the surrounding area becomes infected, surgery may be needed to remove the ingrown nail. If you have painful ingrown toenails, please seek the care of a podiatrist.
Ingrown toenails can become painful if they are not treated properly. For more information about ingrown toenails, contact one of our podiatrists of Houston Foot and Ankle Care. Our doctors can provide the care you need to keep you pain-free and on your feet.
Ingrown Toenails
Ingrown toenails occur when a toenail grows sideways into the bed of the nail, causing pain, swelling, and possibly infection.
Causes
Bacterial infections
Improper nail cutting such as cutting it too short or not straight across
Trauma to the toe, such as stubbing, which causes the nail to grow back irregularly
Ill-fitting shoes that bunch the toes too close together
Genetic predisposition
Prevention
Because ingrown toenails are not something found outside of shoe-wearing cultures, going barefoot as often as possible will decrease the likeliness of developing ingrown toenails. Wearing proper fitting shoes and using proper cutting techniques will also help decrease your risk of developing ingrown toenails.
Treatment
Ingrown toenails are a very treatable foot condition. In minor cases, soaking the affected area in salt or antibacterial soaps will not only help with the ingrown nail itself, but also help prevent any infections from occurring. In more severe cases, surgery is an option. In either case, speaking to your podiatrist about this condition will help you get a better understanding of specific treatment options that are right for you.
If you have any questions please feel free to contact our offices located in Inner Loop, Southwest, Greater Heights, and Pearland, TX . We offer the newest diagnostic and treatment technologies for all your foot and ankle needs.
Read more about Ingrown Toenails
Wednesday, 05 January 2022 00:00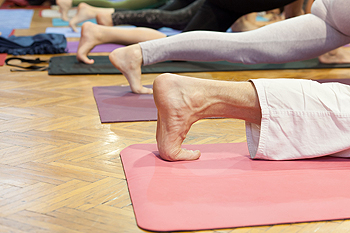 Standing for prolonged periods of time can cause aches and pains in your feet and lower limbs. In addition to wearing comfortable shoes and taking breaks to sit and walk around, one other way that you can prevent or relieve pain is to stretch. A lunging calf stretch can help prevent cramping in the calf muscles, plantar fasciitis, and other foot problems. It can also promote circulation. To do this stretch, stand one step away from a wall and place both palms flat against it. Step your left foot back and bend your right knee into a lunge. Keep your toes pointing forward and slowly push your left heel toward the ground until you feel a stretch in your calf. Hold and then repeat on the opposite foot. To learn more about the benefits of stretching your feet, please consult with a podiatrist.
Why Stretching Is Important for Your Feet
Stretching the feet is a great way to prevent injuries. If you have any concerns with your feet consult with one of our podiatrists from Houston Foot and Ankle Care. Our doctors will assess your condition and provide you with quality foot and ankle treatment.
Stretching the Feet
Stretching the muscles in the foot is an important part in any physical activity. Feet that are tight can lead to less flexibility and make you more prone to injury. One of the most common forms of foot pain, plantar fasciitis, can be stretched out to help ease the pain. Stretching can not only ease pain from plantar fasciitis but also prevent it as well. However, it is important to see a podiatrist first to determine if stretching is right for you. Podiatrists can also recommend other ways to stretch your feet. Once you know whether stretching is right for you, here are some excellent stretches you can do.
Using a foam roller or any cylindrical object (a water bottle or soda can will do), roll the object under your foot back and forth. You should also exert pressure on the object. Be sure to do this to both feet for a minute. Do this exercise three times each.
Similar to the previous exercise, take a ball, such as a tennis ball, and roll it under your foot while seated and exert pressure on it.
Grab a resistance band or towel and take a seat. If you are using a towel, fold it length wise. Next put either one between the ball of your foot and heel and pull with both hands on each side towards you. Hold this for 15 seconds and then switch feet. Do this three times for each foot.
Finally hold your big toe while crossing one leg over the other. Pull the toe towards you and hold for 15 seconds. Once again do this three times per foot.
It is best to go easy when first stretching your foot and work your way up. If your foot starts hurting, stop exercising to ice and rest the foot. It is advised that you then see a podiatrist for help.
If you have any questions, please feel free to contact our offices located in Inner Loop, Southwest, Greater Heights, and Pearland, TX . We offer the newest diagnostic and treatment technologies for all your foot care needs.
Read more about How to Stretch Your Feet