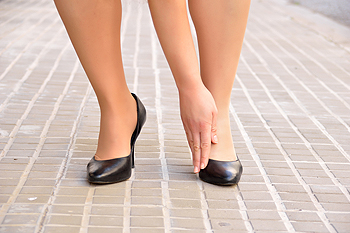 Everyone wants to wear shoes that are fashionable. However, before rushing to purchase that trending footwear, make sure you are getting the right shoe size. Ill-fitting footwear can cause problems such as bunions, hammertoe, blisters, ingrown toenails and more. Two important things to remember when buying shoes are that size changes with age, so you must get your feet measured every time you purchase shoes, and any new shoe should fit well and feel good at the time of purchase—without having to be broken in. Other tips include: shopping for shoes later in the day after feet have expanded, making sure there is 1/2" of space between the big toe and tip of the shoe, and getting a wide size if the balls of your feet feel squeezed at all. A podiatrist can give you more guidance on finding the right shoe size and style for your feet and may even recommend orthotics to provide the support and structure you need.
Getting the right shoe size is an important part of proper foot health. Seek the assistance of one of our podiatrists from Houston Foot and Ankle Care. Our doctors will provide the care you need to keep you pain-free and on your feet.
Getting the Right Shoe Size
There are many people who wear shoes that are the incorrect size, negatively affecting their feet and posture. Selecting the right shoes is not a difficult process, so long as you keep several things in mind when it comes to choosing the right pair.
When visiting the shoe store, use the tools available to measure your foot.
Be sure there is 'wiggle room'. There should be about an inch between your toes and the tip of your shoes.
Do not always assume you are the same size, as manufacturers run differently.
Purchase shoes later in the day, as your feet swell as the day progresses.
If a shoe is not comfortable, it is not suitable. Most shoes can't be 'broken in', and comfort should be the ultimate goal when it comes to choosing the right pair of shoes
As our feet hold our body weight and keep us moving, it is important to treat them right. Picking the right pair of shoes can provide your feet comfort and mobility without pain.
If you have any questions, please feel free to contact our offices located in Inner Loop, Southwest, Greater Heights, and Pearland, TX . We offer the newest diagnostic and treatment technologies for all your foot care needs.
Read more about Getting the Right Shoe Size: To Keep Your Feet Happy